New Roof Construction & Maintenance
---
Selecting the appropriate roof for your building is one of the most important decisions when planning your construction project. The roof protects your most valuable assets from the elements and can contribute to lower heating and cooling costs. At Tried & True Builders we use only the latest state of the art technologies and employ the most experienced crews, so you can feel confident about the installation of your new roofing system. For years, Tried & True Builders has been engineering commercial roof systems for new construction projects with every material from modified bitumen to metal coating. With years of commercial roofing experience, Tried & True Builders is your best source for new roof construction.
Maintenance
Consistent routine maintenance can save you thousands of dollars by extending your roof life up to 50% longer. Just like your car and changing the oil, your facilities roof needs consistent maintenance at critical areas to prevent leaks and other damage.
Repair & Replacement
Our estimators will develop the most cost-effective solution for your roof system. Since each one of our crews is specially trained and selected for your particular property, you can rest assured your property is getting the attention it deserves.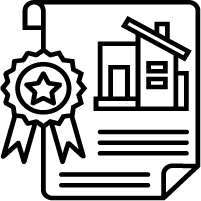 New Construction
Businesses have trusted Tried & True Builders with their roofing needs for years. Our team works quickly and safely to get the job done correctly and on time. Tried & True Builders is your best choice for roofing.
Go Back
Why Choose Us
Trusted: Businesses have trusted us for years to provide quality roof repair and construction.

Certified: Our employees are continually trained in the best practices and fully certified.

Licensed: We are fully licensed and insured so you can feel safe trusting for all your roofing needs.
Types Of Commercial Roofing
We have the resources and equipment to complete roofing projects for office buildings, industrial, retail/restaurant, and multi-family. Many commercial roofs are low-sloped. A roof that has a pitch under 2/12 is considered a low-sloped roof also known as a flat roof. Flat roofs are typically covered with a type of membrane material that helps shed water from a slight inclination. The water on the roof will either filter into a gutter system or a rainwater drainage system that drains directly in to the ground, keeping the walls and foundation dry.
Our low-sloped roofing crews have experience installing roof systems, including:
Built-up and Modified

Architectural Sheet Metal

EPDM, TPO
Maintenance After Your Roof Replacement
It is necessary to maintain your roof and keep debris off of the roof and out of the roof draining system to comply with your manufacturers warranty. Maintaining a flat roof can be difficult at times because water will penetrate the various types of coverings and travel a long way before causing visible damage or leaking into a building.
Also, the maintenance of drains, scuppers, gutters, and downspouts is a very important step in maintaining a flat roof because gravel, leaves and debris can collect and prevent water from draining off the roof. This causes a pressure head of water which will force the water into the smallest hole or crack. In Conway's climate, ponding water can freeze breaking up the roofs surface as it expands while it freezes creating cracks that melted water will penetrate.